Michael R. Kalas, MBA, CFP®, AIF®
Chief Executive Officer (CEO)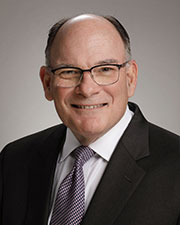 Michael R. Kalas, MBA, CFP®, AIF® began his second career in financial services after 23 years of service in the U.S. Navy—from which he retired as a Navy Captain (O-6) in 1996. Always looking ahead, he had used his off hours at sea to achieve his CFP® certification and believed strongly that "putting clients first" was the only way to build a lasting financial advisory business. Working first at Merrill Lynch and then at AXA Advisors, LLC, he built a successful solo practice over the next nine years—while also hiring and training many new advisors.
He was recognized in 2005 by AXA with a "National Builders Award" for his work in mentoring these new advisors.  It was also in 2005 that Michael founded Potomac Financial Private Client Group, LLC (PFPCG).  He realized that a solo practice had limitations and a group practice would be in the best interest of his clients.   He began to gather a team of like-minded advisors who put serving their clients' needs first—in other words, people he would trust to manage his own finances.
Since then, the firm has grown quickly.  With eight staff and a deep "bench" of experts available, PFPCG advises on over $ 270 million dollars for 375 client households.  This growth is due to Michael's  focus on giving the underserved affluent client the same service level the ultra-wealthy experience and Michael's very simple goal—helping clients make better financial decisions.
Along with managing the firm's practice areas, Michael also establishes the firm's investment strategy and manages recruiting and development of its outstanding advisors and staff.  In 2013, the Financial Planning Association (National Capital Area chapter) selected Michael for the Norma Severns Award for Leadership, recognizing his pro bono financial planning work for severely wounded veterans at Walter Reed National Military Medical Center at Bethesda, Maryland. Michael has been a guest speaker at many industry and military forums and has been quoted in prestigious publications such as the Washington Post, Kiplinger's Personal Finance Magazine, ThinkAdvisor, and American Way. Michael was also featured in the May 22, 2013, Wall Street Journal for his financial planning work.
In 2018 Potomac Financial Private Client Group, LLC was selected as the "Small Business of the Year" by the Greater McLean, Chamber of Commerce* and Michael was selected as a "Five Star Wealth Manager"** a recognition only received by the top 100 financial advisors (out of over 1,975) in the greater Washington DC area.
While those accolades are appreciated, Michael, and the whole PFPCG Team, is most proud of what they do for the community.  Over the years, with Michael's leadership, our advisors and staff have been on committees and boards and/or provided support to:  the US Navy Supply Corps Foundation, The McLean Falls Church Children's Center, Autism Speaks, Foundation Fighting Blindness, Community Lutheran Church, Homes for our Troops, The Safe Children's Foundation, Chesapeake Bay Foundation, Humane Society of Fairfax, Inova Children's Hospital, the Greater McLean Chamber of Commerce, Cystic Fibrosis Foundation, LINK (emergency food in Fairfax and Loudoun counties) and, Rotary International.
Michael lives in Leesburg, Virginia, with his wife, Deborah.  They have two children and three grandchildren. Having been rescued by their Black Lab, Lucy, Michael and Deborah enjoy spending time with her, traveling, spoiling their grandchildren, high-handicap golf, and cruising the Chesapeake Bay on "Endless Summer".
*This award is not specific to financial services and does not imply an endorsement, recommendation, or otherwise reflect the performance of the advisor or any account.
** Based on 10 objective eligibility and evaluation criteria, including a minimum of 5 years as an active credentialed financial professional, favorable regulatory and complaint history, accepts new clients, client retention rates, client assets administered, education, and professional designations.  1975 Washington, D.C. area wealth managers were considered for the award; 100 (5 percent of candidates) were named 2018 Five Star Wealth Managers. These awards are not indicative of the wealth managers' future performance. Your experiences may vary. For more information, please visit www.fivestarprofessional.com.