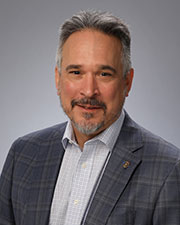 Joe Lamoglia
Principal and Senior Advisor
Joe began his financial planning career after working with his own financial advisor – a friend he'd made serving on a school board their children attended together. Joe remembers, "I was thanking my advisor for his help. Going through the financial planning process had changed my life for the better. My wife and I slept better knowing we were "on track" in some areas and where we had to make changes. It was a great feeling and I realized I wanted to do that for others – after a lot of thinking, I knew there was no better way to spend my professional energy."
In 2005, Joe began his financial planning career working at AXA Advisors, LLC, with Michael Kalas as his manager and his own former advisor, John Ferguson, as a mentor. When Mike formed Potomac Financial Private Client Group in 2006, Joe was one of the first advisors to join the practice.
Joe provides comprehensive planning solutions for both individuals and business owners in the areas of Retirement Planning, Risk Management, and Estate Planning, as well Personal Financial Planning, Asset Allocation, and Investments.
Joe's approach to helping individuals, families and business owners is based on his belief that people are much more likely to achieve success if they make their financial decisions on a goal-centered plan. It is hard work to build wealth and partnering with a professional advisor who really listens is critical.
Many of Joe's clients are associates from his 15 year career in not for profit associations. "There are many wonderful people working in the not for profit arena – and helping them secure their financial futures is a great way for me to stay connected to the profession."
Joe stays connected to the not for profit world in other ways as well, using his talents to work with groups in his community. He volunteered at his daughter's schools, Reston Children's Center and Armstrong Elementary. Serving on the Board of Reston Children's Center for a number of years, helping lead the effort to expand the facility so that all services could be provided at one location.
He joined the Rotary Club of Reston in 2008, and has served in a number of roles including as President 2012-2013 where he lead the effort to adopt a strategic plan for the organization. He continues to serve on the Club's Board and enjoys seeing the increasing impact the organization has on local schools. "This group has been serving Reston for more than 40 years and it's just one club among more than 30,000 world wide. It's great being a part of that kind of global community while having a real impact close to home," he says.
Joe holds the Chartered Financial Consultant® (ChFC®) designation and the FINRA Registrations Series 7 and Series 66 (through Commonwealth Financial Network®), as well as Life and Health Insurance licenses. Raised in Loudoun County, Joe resides in Reston with his wife and daughter. Joe graduated from Old Dominion University, in Norfolk, Virginia, in 1989. Contact: joe@potomacfinancialpcg.com.