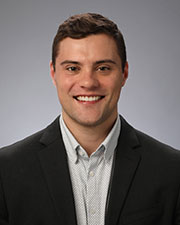 Ryan "Sully" Sullivan, CFP®
Financial Planning Associate

Ryan "Sully" Sullivan graduated Magna Cum Laude from Virginia Tech in 2019 with a Bachelor of Science in Finance, where he completed Virginia Tech's CFP® Certification Education track. He thinks it's important to give back to his community and volunteered in the Food Rescue program in his home town of Wilton, Connecticut. Sully decided to join the financial planning profession because it presents the opportunity to make a real impact on people's lives. He is looking forward to building his experience in financial planning as he works towards passing the CFP® exam.
Prior to joining the Potomac Financial team, Sully interned with UBS Wealth Management in Westport, Connecticut. He also worked as a beach lifeguard for four years, where he was a lifeguard captain. In his free time Sully enjoys hiking, snowboarding, mountain biking, and hanging out with friends. After joining Potomac Financial PCG, Sully relocated to Arlington, VA and is enjoying getting to know the area.