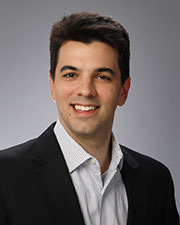 Kyle Morrissey, CFP®
Financial Planning Associate

Kyle graduated from Virginia Tech in 2017 with a Bachelor of Science in Finance, where he completed Virginia Tech's CFP® Certification Education Track. After graduation, Kyle had the experience of a lifetime backpacking throughout Europe and immersing himself in different cultures and experiences. He's excited to be starting a career in the financial planning industry and passed the CERTIFIED FINANCIAL PLANNER® exam in March of 2019. Before joining Potomac Financial, Kyle ran his own landscaping and odd-jobs business. He worked his own business for six years servicing customers on various tasks as well as trying to grow a small business. In his free time, he likes participating in local sports leagues, traveling, and enjoying his time with family and friends. Kyle is originally from Newtown, CT and now lives in Northern VA.