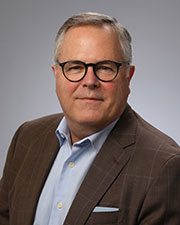 Steven Richardson, CPA, CFP®, AIF®
Principal and Senior Advisor
Steve provides comprehensive planning for individuals in the areas of retirement planning, asset allocation strategies, risk management, and estate planning strategies. He also provides corporate benefit planning for privately held companies and not-for-profit organizations.
Steve works with successful, motivated business owners, executives and professionals to develop and implement comprehensive personal financial and estate plans. The plans, developed after a thorough and comprehensive analysis with his planning team, investment advisors and risk management experts, are implemented using time-tested and effective strategies for accumulating wealth, protecting families and businesses, transferring wealth to heirs efficiently and aiming to provide solid and long lasting income in retirement. Additionally, Steve is serving clients with a growing interest in socially responsible investments. As a seasoned professional, Steve spent nearly 20 years in corporate finance, controllership and public accounting. He has served as senior management or executive-level management in several industries including hotel and resort management for properties, higher education student loans and bond financing, and conventions and international trade show development, marketing and management. Steve has also been a principal in a closely-held business delivering marketing and sales services exclusively to IBM's global network of Business Partners.
He holds a BS from Towson University in Business Administration and Accounting and an MBA from the Robert H. Smith School of Business at the University of Maryland. He has lived and worked in Northern Virginia since 1990. Steve has been a Certified Financial Planner™ since 2009. He also holds the Chartered Retirement Plan Specialist® designation to further assist business owners in the design and administration of their retirement plans. Steve has also attended The Wharton School at the University of Pennsylvania for specialized executive education in Retirement Planning for Financial Advisors.