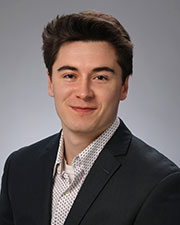 Grayson Hurley
Advisor Assistant

Grayson graduated from Virginia Tech in 2021 with a Bachelor of Science in Finance, where he completed Virginia Tech's CFP® Certification Education Track. While attending Virginia Tech he spent his free time refereeing basketball games and supporting Virginia Tech sports teams.
Prior to joining the Potomac Financial team, Grayson spent his summers in New Jersey caddying at Hollywood golf club — a renowned championship golf course. He was awarded The NJSGA Caddie Scholarship for his course knowledge and academic achievements.
Grayson became interested in the financial planning profession when he went through the process of applying to schools and creating a plan to pay for college. That experience made him realize he wanted to help other families prepare and be confident in planning their finances.
Grayson is originally from Asbury Park, NJ and is now living in Arlington, VA. He is looking forward to exploring the area and meeting new people. He enjoys playing golf and is quickly becoming a Washington Nationals fan.